2015, June 5
Debra Jo Rupp gives 2015 Commencement Speech
Star of stage and screen and Masco Class of 1969 graduate Debra Jo Rupp gave the 2015 Masconomet commencement speech. Follow the YouTube link below to view this moving and memorable moment in Masco history.

https://www.youtube.com/watch?v=ZwrWYF3T8gE&feature=youtu.be
2013, October 11: 50th reunion of the 1963 undefeated football team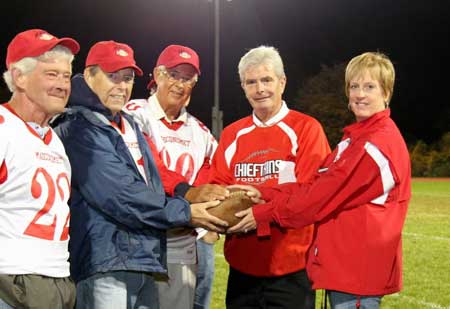 Friday night, October 11, 2013, Masconomet Regional held a ceremony at halftime of its matchup against Pentucket to honor its 1963 squad that finished 9-0, the only undefeated squad in program history. Read the whole story with photos.
2011, December: Alumni Association presents a check to superintendant Darrell Lockwood for the purchase of audio/video equipment and other items.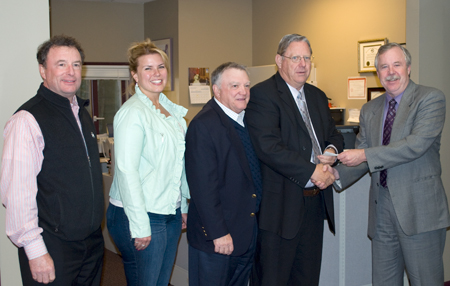 L to R: Bob Sennott, Leah Moreschi, Peter Sennott, Paul Richardson, Superintendant Darrell Lockwood.
2008, October: Alumni Association purchases fixtures and display cases for student run school store.